Someone close to me has said many a time, "You have to play to win". If you don't play, you may never lose. However, you will also never grow forward and possibly reap the extreme benefits of online reputation. But, what happens when you play and you lose — you get those dreadful negative reviews? Once you are done cringing at the harshness the sting has left, do you have what it takes to manage this, and others, effectively to benefit your business?
These 6 tips come straight from my time working with Digital Reputation Management over the past four years. I've read the worst of the worst: everything from slander to murder accusations. Trust me — these tips will help make sure you avoid brand trashing.
Don't Take It Personally.
Emotions are usually high whenever we receive bad news. Our bodies go into defense mode, and the first action we want to take is defensive, lashing back. Don't. It will ultimately do you way more harm than good. If you have to, move away from it for an hour or two and circle back, but whatever you do, don't ignore it. Review responses are time-sensitive, and you want to hit the negative headon before their anger moves to other sites.
Ensure Your Response Feels REAL. Apologize.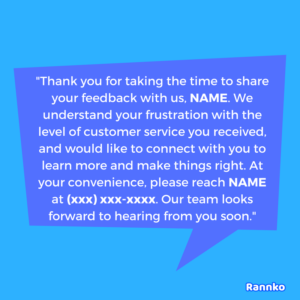 It's always good to start with a templated response to your customers. But let it be only that – a start, "canned" response. The last thing you want to do is make your customers feel that you don't care about them. Your response should begenuine as opposed to robotic. Also don't be afraid to apologize. We are all human, after all, and humility can go a long way for your dissatisfied customers, even so much so that they may come back again to your business.
Details Show You Care.
Your response to your unhappy customers need to convey that you, the business they did not have a stellar experience with, care about their happiness
more than just to ensure your brand doesn't suffer. Often times, the customer just wants to feel heard. Going back and looking at their experience as much as possible can help. Share details if you or your team can recall them to add a personal touch and make them feel valued. It's okay to leave out things like prices and other pieces that are between you and the customer, however.
Take the Conversation Offline.
An unhappy customer will often times want to retaliate to your attempt at sincerity and compassion by commenting back to your response if possible. We imagine that you do not want to dub the digital war of the century with each and every disillusioned customer you have. An easy way to avoid this is taking the conversation offline from the initial reviews. Your real, apologetic response can include a line asking for the customer to contact someone at your establishment that can connect with them personally, whether by email or by phone. This will allow more control of what is said without coming off as pushy or uninterested, and avoid even more sour faces online. You have your brand to protect, after all!
Re-engage A Positive Review Request.
In some instances, it may be quite possible that you can rectify a negative experience with a little bit of elbow-grease, empathy, and the techniques above. More than likely, it won't happen every time; some customers will be unab
le to be satisfied, and you will have to draw the line. However, when the scale tips back in your favor and a smile returns to their faces, you can consider asking them to change their former review to reflect the attention they have received. More times than not, this will not cause forfurthered anger if done with sincerity and a smile.
New Review Diligence.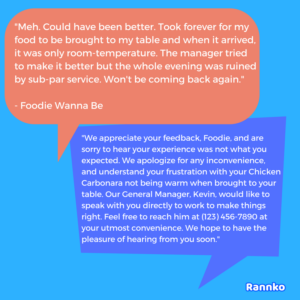 Congratulations! You have successfully navigated the harshness of your negative review, and have responded properly. Since we cannot count on the customer to actually go forward with changing their review to a positive reflection of their experience, it's up to you to be diligent even more than normal in collecting new positive reviews. The more that you do this, the quicker the negative comments are buried in the dirt. This leaves happy comments to reflect on your business, just as you'd like it to be.
Are you currently working to get your customers to talk about their experiences with you online? Do you use a tool to help monitor and ask for reviews? Let us know how you are currently balancing your review management online for your business in the comments below, and consider checking out Rannko to ensure you can own your brand reputation with ease.
Schedule a demonstration with us for Rannko Review Management and our entire digital marketing automation suite today!