When it comes to social content, staying relevant is a time consuming endeavor. Social media is the place many go to for tips, inspiration, current events, and more. Finding the right content to share can be like finding a needle in the haystack, scouring countless search results to pluck the perfect piece of content to share to your page that represents your brand and is relevant to your followers. Rannko understands this difficulty, which is why we've introduced "Content" into our Meerkat Social software!
Content for Your Social Media Calendar
We have paired the search for content and your social media scheduling and planner tool into one cohesive software partnership. This partnership gives you greater access to not only category-specific content, but up-to-date, relevant content. Your mix of content you share to your business should be interesting to your target audience, so when you're struggling to find just the right fit, give the Content section of Meerkat Social by Rannko a shot. It is quite simple to utilize, and keeps you on track to stay focused and efficient.
Your Content. Your way.
Need to find an article about the latest hair trends? No problem. Looking to share more about restaurant demands? We have you covered. Your dental practice in need of something savvy to share with your patients to ensure they are taking proper care of their gums? Look no further.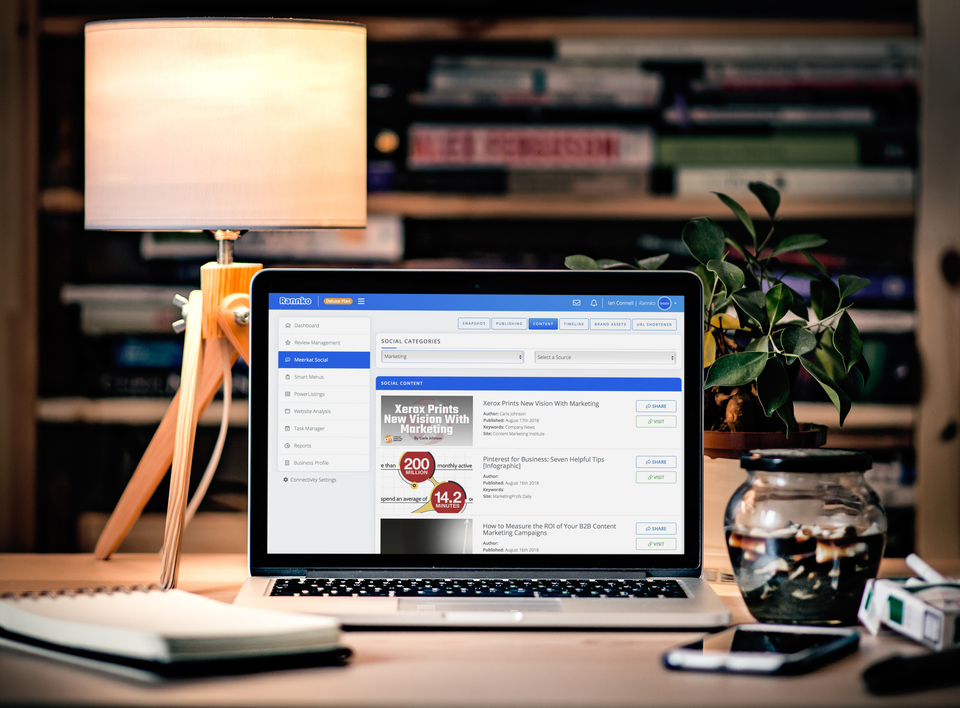 Select the category or source you'd like your articles to come from within the tool, and quickly have access to the articles that fit your selection criteria. Once you find one you like, no need to click the article, copy the link, and then go through the process of pasting it into a new post for your schedule. Instead, just hit the 'Share' button alongside the article and write your content to post. Rannko will take care of the rest, shortening the URL and adding it to the next available time slot on your social media schedule.
At Rannko, we keep bettering our product lines with you in mind. Marketing should be simple, easy, and most importantly, accessible. Spend less time catching up and more time ahead of time with Rannko, but don't take our word for it. Reach out and request more information to put you in control of your digital brand presence today!